Technology
Acer's affordable new Chromebox PCs are like Chromebooks for your desktop
Acer recently announced that they're adding a Chromebox to their ChromeOS lineup. If you're not sure what the heck a Chromebox is, listen up. In a nutshell, it's a tiny computer that exclusively runs ChromeOS. It's like a Chromebook but without the display, keyboard, touchpad, or chassis. Traditionally, these itty-bitty machines are used where space is limited, like a classroom or a small office. You're probably wondering what kind of hardware Acer's latest offering is packing. Well, let's get into it then!
Acer Chromebook CX15
The Acer Chromebox CX15 features the latest 12th-gen Intel Core i7 processor. That means it's fast enough to handle everyday tasks like browsing the web, checking e-mail, creating presentations, and so on. Connectivity options include four USB 3.2 Type-A, two USB 4 Gen 3 Type-C, two HDMI 2.1, and one RJ45 Gigabit Ethernet. The wide array of connectivity options allows you to easily hook up to external peripherals like monitors, keyboards, mice, and so on. According to Acer, it also offers low power-consumption modes and efficient charging capabilities.
The Chromebox comes with either ChromeOS or ChromeOS with Chrome Enterprise. The latter is designed for the IT crowd, as it unlocks fast deployment and management tools. There are also built-in security features and 24/7 IT admin support. They're two products with two separate SKU numbers, but the only difference is that one comes loaded with the Chrome Enterprise upgrade.
The Acer Chromebook CX15 will become available in Q1 with a starting price of $289.99.
Acer Add-In-One 24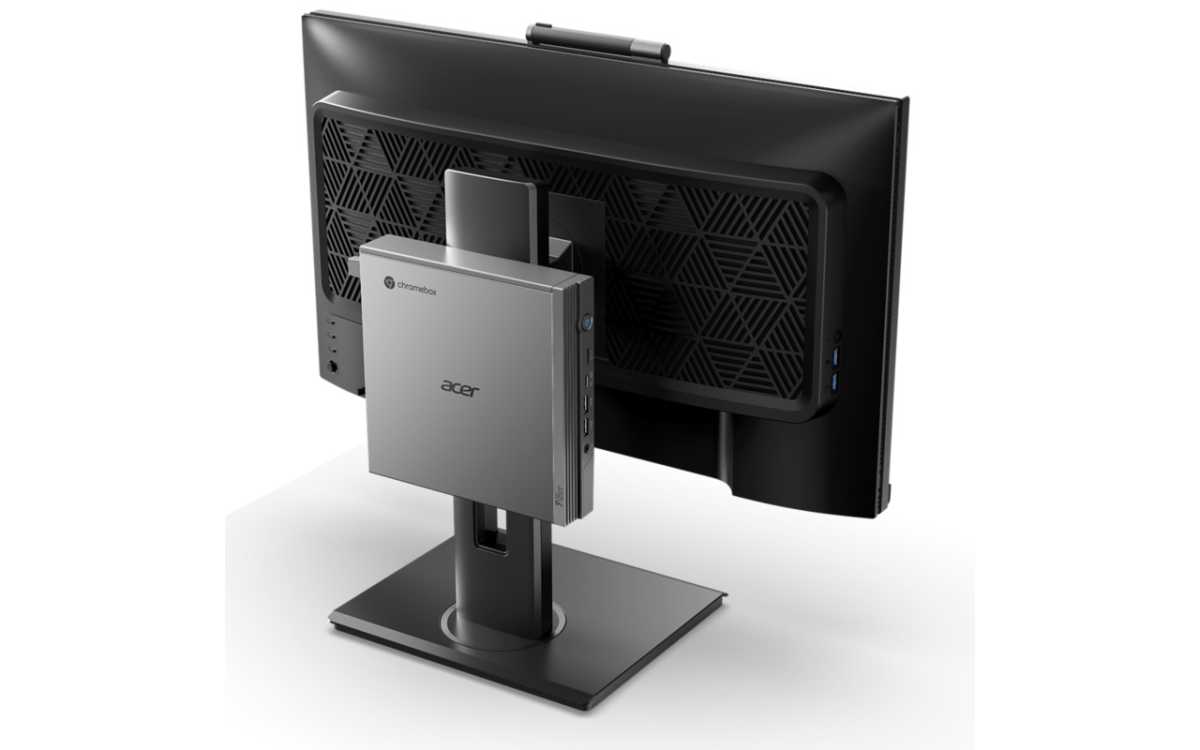 Acer
The Acer Add-In-One 24 is a monitor that works with the Acer Chromebox CX15. The 24-inch IPS display has a resolution of 1920×1080 and a 115-degree wide-angle 5MP built-in webcam. Thanks to the modular design, the Chromebox fits in the dock on the back. Modular designs are kind of my jam, so I'm thrilled to bits. This setup is perfect for an office setting, as it doesn't take up a ton of desk space. There's even optional touch functionality, which really adds to the entire experience.
The Acer Add-In-One 24 will become available in Q1 with a starting price of $799.99.