Technology
Microsoft's Surface needs a fresh start. Here's how to fix it
Plunging hardware sales. A stone-cold PC market. A creative renaissance. An AI-powered future. Throughout all of this, Microsoft's Surface lineup has remained pretty much unchanged for years. Shouldn't Microsoft be doing something about it?
It likely is. That still doesn't excuse Microsoft leadership from recycling the same Surface devices, over and over and over. Microsoft originally launched the Surface to set new standards for the PC market. But lately it's looking more and more like other laptop manufacturers are blazing a trail, and Microsoft has left Surface linger behind.
Microsoft knows this. Its fourth-quarter earnings report detailed problems launching Surface devices, and executives said that falling device sales would actually accelerate into this quarter. Meanwhile, chief executive Satya Nadella said that "changes to our hardware portfolio" would be coming in a layoff memo he authored.
Put simply, Surface is stale.
Cut-and-paste hardware
Let's just begin with the simple truth: Microsoft has released five different Surface Laptops, about one per year since 2017. Place them next to one another, and you would be hard pressed to tell any of them apart. Ditto for the Surface Pro series, on its tenth iteration. Since the Surface Pro 3, they've been virtually indistinguishable save for changes in ports and thickness.
Surface has always embraced something of a dichotomy. Throughout Surface's history, chief product officer Panos Panay — who helped introduce the Surface RT and Pro in 2012 — has always said that the Surface hardware is just a showcase for the operating system. "The hardware fades to the background… so that the software can rise to the surface," Panay said at the original launch.
Mark Hachman / IDG
But at the same time, Surface hardware has set out to lead the PC industry, not just exist within it. Just like the mouse was intrinsically tied to Windows, so too was Surface tied to Windows 8, explained Steve Ballmer, Microsoft's CEO at the time. Panay expanded upon Ballmer's original theme that the Surface was "something new, something different," in a 2018 interview with Fast Company. "We built a business, and we have to grow that business," Panay said. "And we are. Are we here to inspire? The answer's also yes."
There's a similar dissonance between how Microsoft diversifies the Surface lineup, and how it develops subsequent products.
Microsoft should be credited for taking risks — inspiring, maybe? — rival PC makers into trying out new form factors. Microsoft's Surface Studio lineup, for example, received wide praise for its massive touch display, which made content creation and consumption an absolute joy. But the problem is that, once Microsoft establishes a product, it rarely refuses to improve upon it besides processor upgrades and other small changes. The thinking seems to be that each successful Surface is essentially a hole-in-one.
It's not just us. Compare recent reviews of Surface laptops or tablets from across the Internet, and a common theme emerges: Surfaces are kind of boring these days.
Competitors are leading the way
We're not saying that Microsoft doesn't experiment. The Surface Pro X survived two iterations before being pulled into the Surface Pro lineup as an always-connected version. We know that there was a canceled Surface Mini, and a Surface Neo, and that Microsoft updated the Surface Duo 2 to address its critics.
But compare the Surface lineup to what we've seen recently: the Lenovo Yoga Book 9i, a wacky book-like dual-screen laptop, or the Asus ProArt StudioBook 16, with its wild 3D OLED display. History says that customers tend to be conservative on what they buy, so it's possible that the Yoga Book won't escape the fate of something like Acer's dual-screen Iconia, circa 2010. The Yoga Book is also very reminiscent of the Surface Neo, with its slide-over keyboard. We're willing to admit that Microsoft may have succeeded in inspiring even though it declined to bring a product to market. Still, it's the exception to the rule.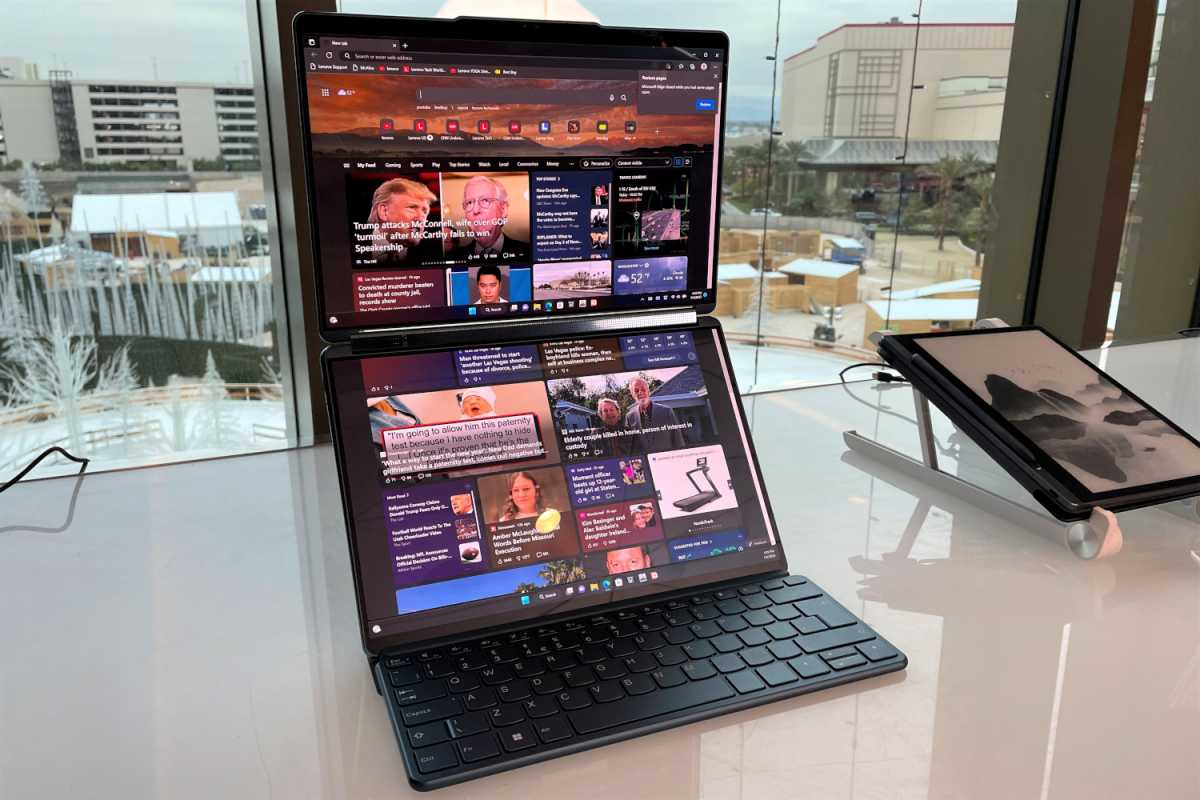 Matt Smith/IDG
What we've seen from rival laptop manufacturers, though, is that even small changes can translate into signature updates. Hearken back to 2016, and HP's Spectre was winning Editor's Choice awards for thin lines and competitive performance. HP's Spectre x360 (2021) did as well, but with an abbreviated back corner that housed a Thunderbolt 4 port. Aesthetically, that Spectre is like nothing else on the market, combining functionality with a distinctive look that helps define it as a Spectre.
We did acknowledge that the Microsoft Surface Laptop Studio "feels like the future," and its 120Hz display has been followed up by the competition. That's what we're hoping to see more of.
The opportunity to rethink the Surface is now
To be fair, Microsoft's hardware woes are bigger than just Surface, which is also victim to the worst PC market maybe ever. The "Devices" business includes the troubled HoloLens, which reports have already claimed is dead;, the rather iffy Surface Duo; and the Xbox, which also suffered revenue declines. The Surface business undoubtedly makes up the bulk of Devices revenue, however it all shakes out.
But the perfect storm that helped sink Microsoft's Devices business this quarter represents a perfect opportunity for Microsoft to reinvent the Surface: not make it larger (the Surface Hub), smaller (the Surface Go), cheaper (the Surface Laptop Go) or some variation on the theme. Instead, Microsoft has a chance to reinvigorate Surface entirely.
What this means is that Microsoft is going to have to break from its theme of much of the past decade, productivity, and embrace what its Windows business is rediscovering: creativity.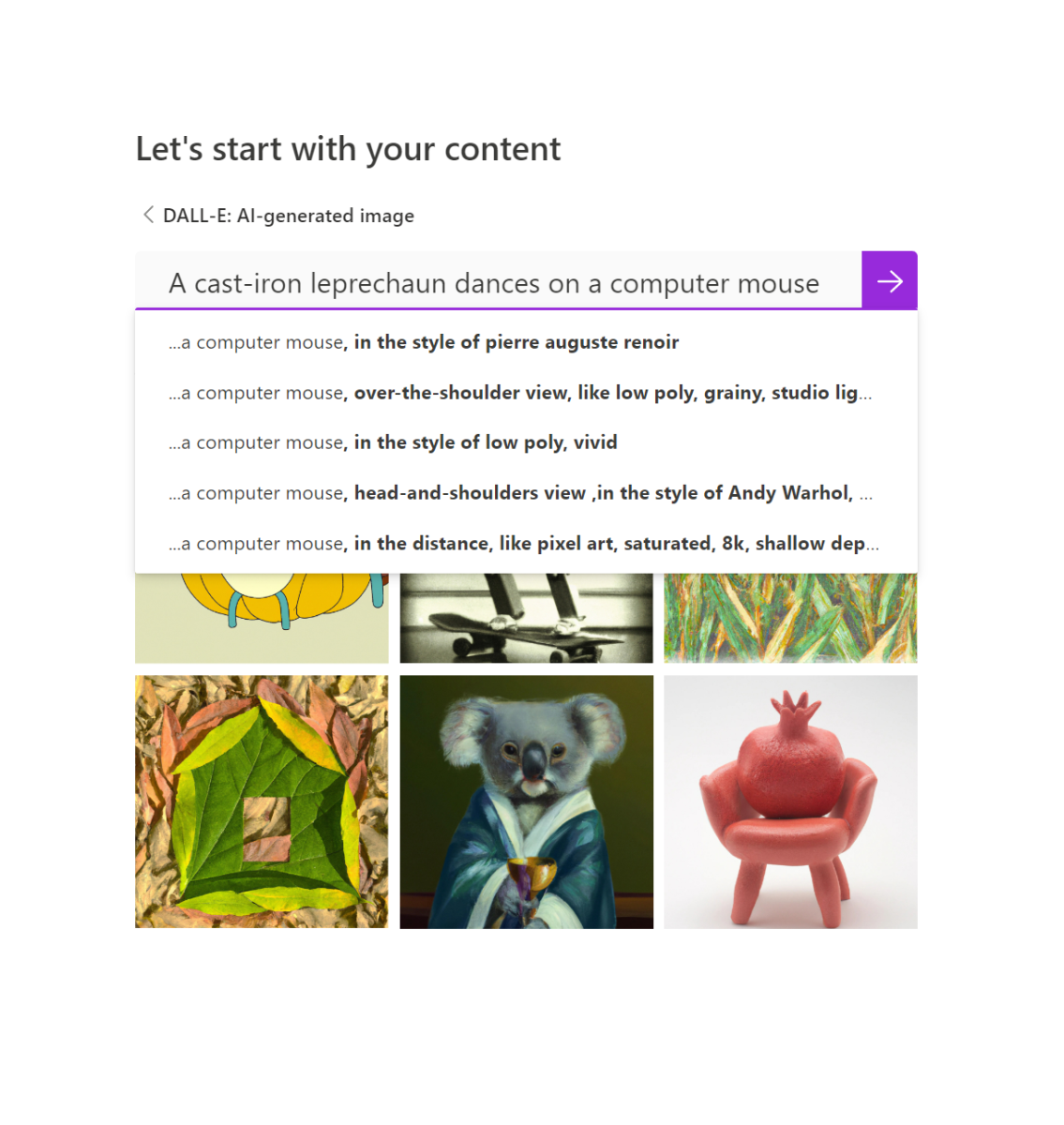 Mark Hachman / IDG
The AI-powered Microsoft Designer and Clipchamp's video editor simply feel different than other Microsoft apps. They're alive, and pulse with a vibrancy that Microsoft's other apps lack. If Microsoft's mission for Surface is still to subsume itself in service to the software, then it's missing an opportunity. Step forward and embrace Microsoft's creative renaissance.
Start asking the questions: What can Microsoft do to empower creators that it hasn't done, to date? Is that tool the Surface Laptop Studio, the Surface Studio, or something else? Fans have been clamoring for a standalone Studio monitor for years. Is now the right time?
The largest question of all is one that Microsoft and many others may be brainstorming right now: what does an AI-powered PC look like? If Microsoft is inventing in OpenAI and retooling itself to empower all of its consumer and business apps with AI capabilities, what changes does that make to the hardware? Do we see Windows evolve into a translation platform between English and native code? One of the small notations Microsoft's Nadella made was to note that Microsoft's Power platform would gain AI capabilities, so that you'll be able to write apps by simply describing what they'll do. Does that imply a future where we dictate our own applications? Who knows?
Keep in mind that these are criticisms, not condemnations. At the launch of the Surface Pro 3, Panay addressed the haters. "By the way, we've read plenty of negative [coverage], and we learn and we take and we grow and we feed, and we get better," he said then.
We'd expect nothing less. It all feels like Microsoft is on the cusp of….something. What Microsoft and Panay will have to decide is, will Surface lead — or follow?