Sports
Prep sports roundup: Mater Dei, St. John Bosco set up Friday basketball showdown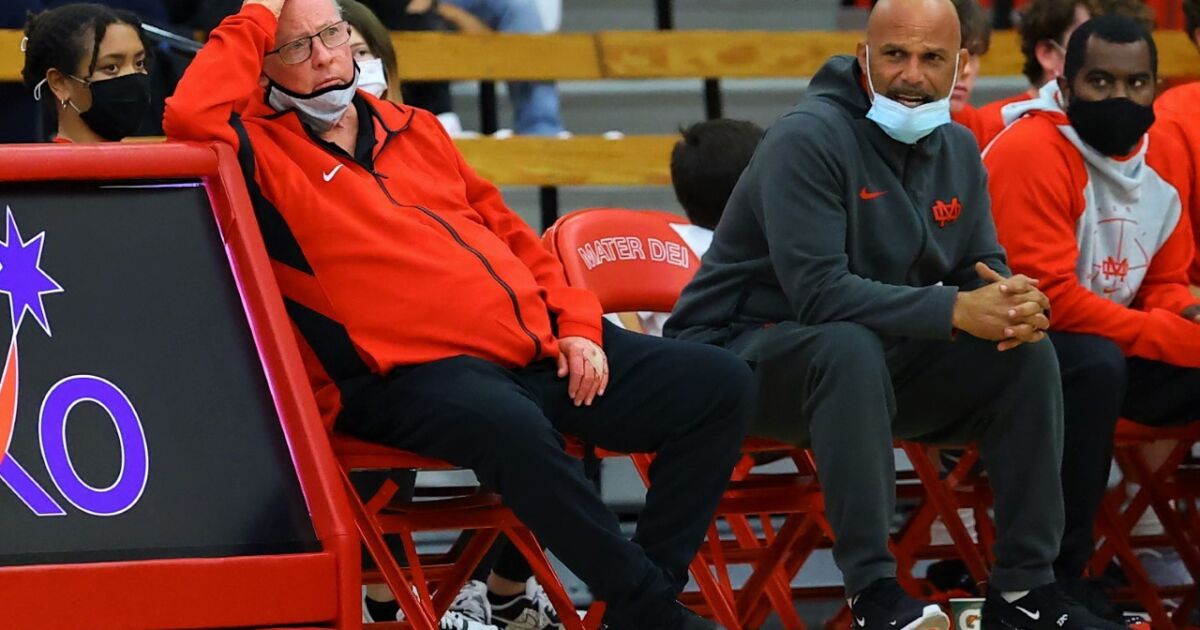 It happened in football and now get ready for Mater Dei vs. St. John Bosco for Trinity League basketball supremacy.
The matchup is set for Friday night at Mater Dei after both schools opened league play on Wednesday with impressive wins.
Mater Dei (13-2) came back from a three-point halftime deficit to pick up an important road victory over JSerra 66-52. Montana-bound Zack Davidson scored 25 points. Freshman Che Brogan had 14 points. Aidan Fowler led JSerra (13-4) with 19 points.
St. John Bosco 88, Servite 44: The Braves (15-3) won their Trinity League opener. Kade Bonam led the way with 21 points.
Bishop Montgomery 81, Gardena Serra 30: The Knights improved to 18-0, with Xavier Edmonds scoring 18 points, Christian Jones 12, Will Smith 11 and Kelcy Phipps 10.
St. Anthony 72, St. Paul 70: The Saints prevailed in double overtime in their Del Rey League opener.
Diamond Bar 68, Walnut 59: Malcolm Bell scored 20 points for Diamond Bar in the Hacienda League upset. Joby Barnes scored 26 points for Walnut.
Simi Valley 84, Moorpark 55: Ryder Mjoen scored 20 points for Simi Valley.
Oak Park 68, Royal 35: Trey McDonald finished with 19 points for the Eagles (11-7) in a league opener.
St. Francis 66, El Camino Real 48: Mazi Mosley led St. Francis with 14 points.
Lynwood 118, Bellflower 27: Freshmen Jason Crowe Jr. and Chace Holley scored 35 and 30 points, respectively.
Fairfax 63, South Pasadena 59: Guard David Mack poured in 39 points for the Lions.
San Pedro 72, Eagle Rock 62: Anthony Hrboka scored 32 points for the Pirates.
Birmingham 62, Adelanto 44: Kory Blunt scored 17 points and Ryan Sostman added 16 points for the Patriots.
Grant 63, Canada Brentwood College Prep 55: Dilyn Martin made four threes and finished with 21 points and 12 rebounds.
St. Pius X-St. Matthias 72, Salesian 58: Tyrone Riley scored 32 points for St. Pius.
St. Bonaventure 66, Monrovia 52: Dylan Benner contributed 29 points and 15 rebounds for St. Bonaventure.
Girls' basketball
Birmingham 76, Cleveland 37: DeeDee Berry and S'riaya Peters each scored 15 points in the West Valley League victory.
Boys' soccer
Servite 2, St. John Bosco 1: The Friars (9-0-3) rallied from a 1-0 deficit, getting the winning goal from Joe Moyer.
Placentia Valencia 1, Montclair 0: Valencia handed Montclair (13-1-1) its first defeat.
Girls' soccer
Harvard-Westlake 4, Sierra Canyon 0: The Wolverines had four different goal scorers in the Mission League win.